Foldable Storage Shelves with Wheels - Black Metal Wire Rack - Easy Moving Shelf - Storage Organizer for Home and Office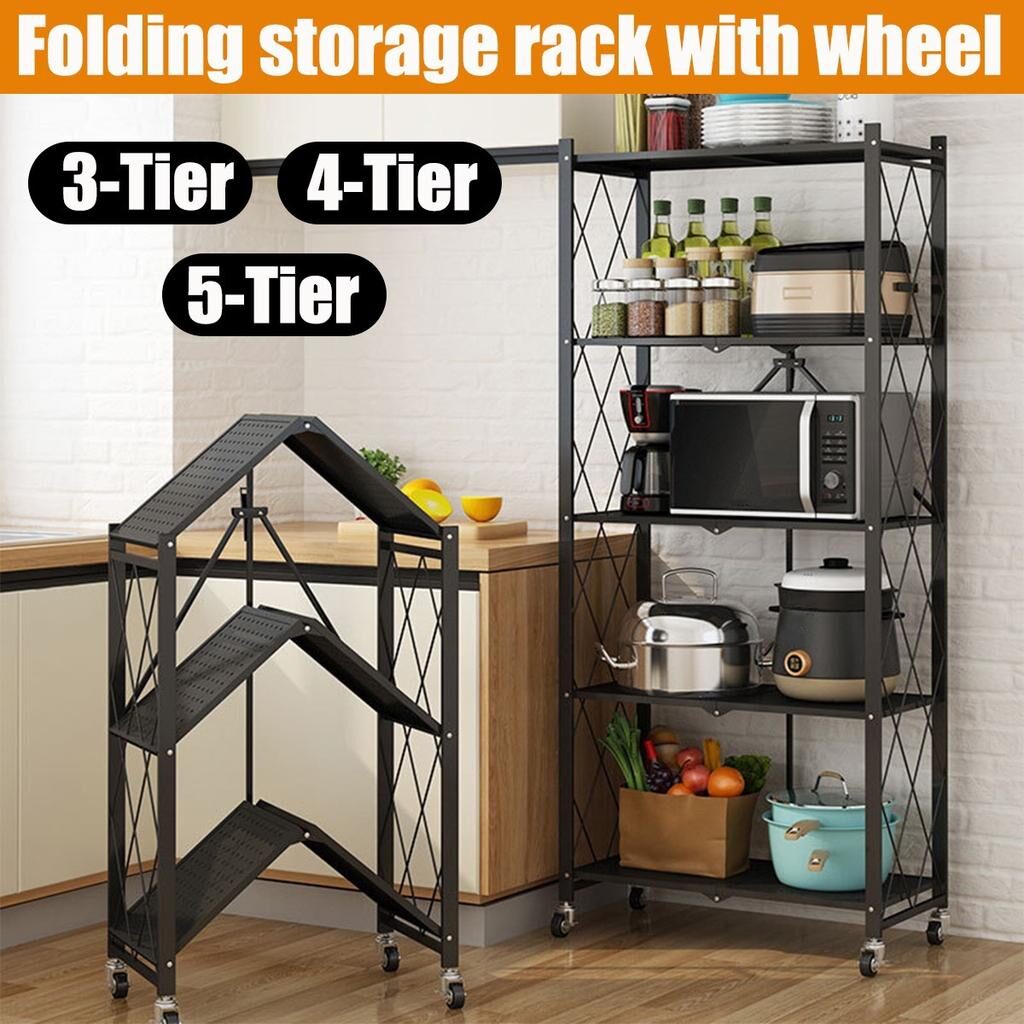 【No Assembling Needed – The foldable storage shelf came pre-assembled, so there's no need to install, unfold in seconds! When not in use, simply fold it and store it virtually anywhere! No tools needed ever!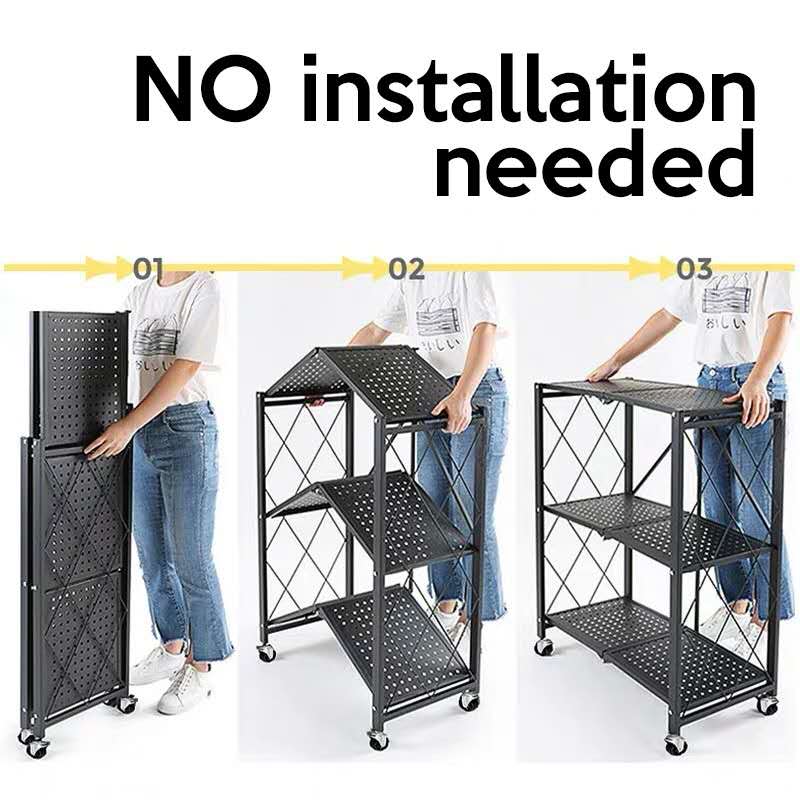 【Sturdy Construction – The spacious shelves can hold up to 50lbs per shelf, and is made of commercial grade powder coated steel and equipped with caster wheels for easy maneuver.. The side of the shelves are fenced so items will unlikely to fall off from it. The coated steel is easy to clean and protected from rust and light scratches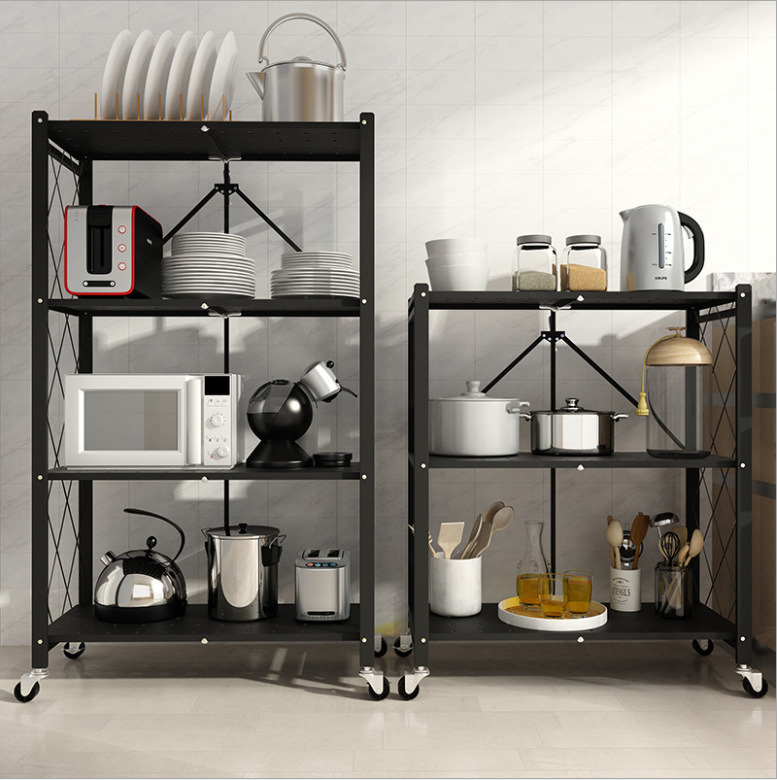 【Quick and Easy Storage Solution】We all need some extra storage here and there, whether it is temporarily or permanently; the foldable storage shelves offer the easement to fold or unfold effortlessly so you can place it anywhere when storage space is needed.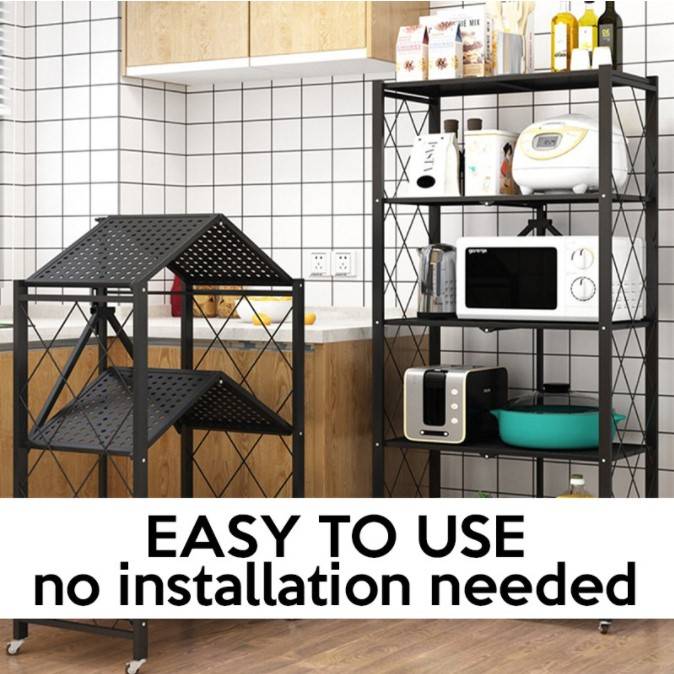 【The All Occasions Storage Solution】The modern and practical shelf is most commonly used but not limited in the kitchen, bathroom, garage, balcony, patio; and especially useful for parties and gatherings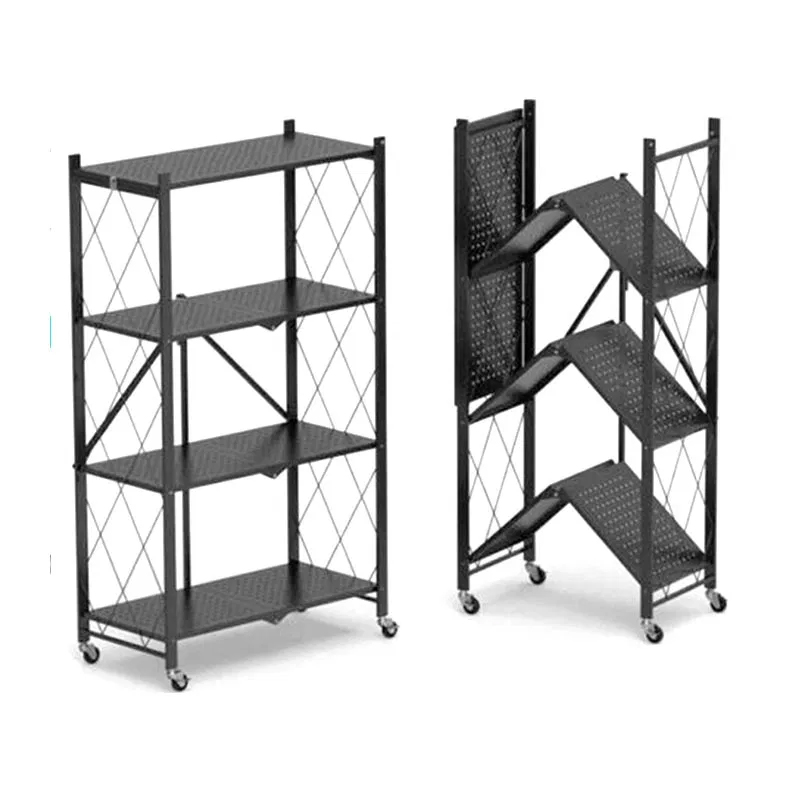 We all need some extra storage space here and there, and the CozyBlock Foldable Storage Shelf is the perfect solution for any families and occasions!
Thanks to the design of the modern shelf, it came pre-assembled and you can unfold and fold in seconds!
The powder coated galvanized steel are not only durable, but also easy to clean and can withstand moisture and dirt.
When folded, the shelf only occupies 3.2" of your space; and when unfolded it provide you ample spaces for most of your household objects.
The elegant shelf is available in 3-tier, 4-tier and 5-tier design for your needs.
Each shelving unit is equipped with caster wheels that add the mobility to maneuver around your house or office
The occasions of using the shelves are limitless – it can be used as microwave shelf in your kitchen, planting tools in your balcony, tools organizing storage in your garage, bathroom organizer for your tight space, detergent and supplies rack in your laundry room, or even use it as a shoe rack! Your imagination is the key!
【Dimension】: 27.9" L x 13.3"W x 33.8"H; weight 8 lbs. Cleaning: wipe with mild soap or cleaner. Matte black powder coated finish
Foldable Storage Shelves with Wheels – Black Metal Wire Rack – Easy Moving Shelf – Storage Organizer for Kitchen
CURRENT PRICE: ₦60,000 (5 Tier)
CURRENT PRICE: ₦50,000 (4 Tier)
Offer valid while stock lasts (For inquires, please call 09020713025)
All orders within Lagos, Rivers and Abuja are on payment on delivery; However, ₦2,000 commitment fee is required to validate all orders outside these (3) locations, then balance will be paid at the point of delivery
Please note that we incur additional cost for every failed delivery and/or customer unavailability. Therefore, kindly be sure that you will be available to receive your order before your place it

Kindly complete the form below to proceed with your order