Introducing The New (5 Set) Copper Chef Steel-Copper Deep Square Non Stick Pan
Description Material: Non stick coating, glass lid, stainless steel steam rack and basket Color: Copper Size: (L)X(W)X(H) 54X24X9.5cm /21.26"X9.45"X3.74″(appr.) Features New and high quality. Non stick coating designed for easy cleaning or cooking. The integrated kitchenware has reduced a lot of trouble for cooking. Can bake, deep-fry, roast, steam, saute or broil with just this one pan. Glass lid with a ventilation hole to prevent soup from overflowing. Strong and durable grip Five Layer Construction: 1. Double Top Layer: polished ceramic coating 2. Base Layer: Non-stick ceramic coating 3. Aluminum Core: Provides excellent thermal conductivity and heat distribution 4. Outside Layer: High-temp exterior coating 5. Induction Base: Stainless steel induction base heats up faster and retains heat longer Package included: 1 x Copper Square Pan 1 x Tempered Glass Lid 1 x Fry Basket 1 x Steam Rack
Non-Stick Surface – Scratch Resistant: Both Copper Chef nonstick skillets and deep fryer pan are coated with Cerami Tech ceramic nonstick coating for instant food release. Enjoy crisper results without added oil – no sticky residue left behind, Versatile pots and pans set lets you fry perfect, golden brown chicken; perfect your steak, vegetables, omelettes, pancakes and more. Cleanup is effortless without soaking or scrubbing.
Nesting Pan Set Saves Space: Best Selling Copper Chef's stackable pan set is designed with flat tempered glass lids fit that easily on top of each other into a space saving nest design – no pan rack required. Lids are vented to allow steam to escape easily. Includes Copper Chef cookbook with exclusive recipes by Eric Theiss.
Induction Frying Pans Heat 30% Faster: Stainless steel induction plates are built directly into each square pan bottom for rapid, even heat that also helps preserve the pan plus gives extra durability – perfect for extended periods of cook time. Advanced induction technology means your pans heats up faster from edge to edge for perfect, even cooking every time. Pans are compatible with induction, electric, glass, and gas stovetops.
Oven & Dishwasher Safe: Each nonstick ceramic skillet is heat resistant allowing transition from stovetop to oven in one pan. Sear or fry for a crispy skin, then bake in the oven to your desired degree of doneness – all in the same pan. Deep fryer pan features a sturdy helper handle to make transporting your meals as effortless as possible.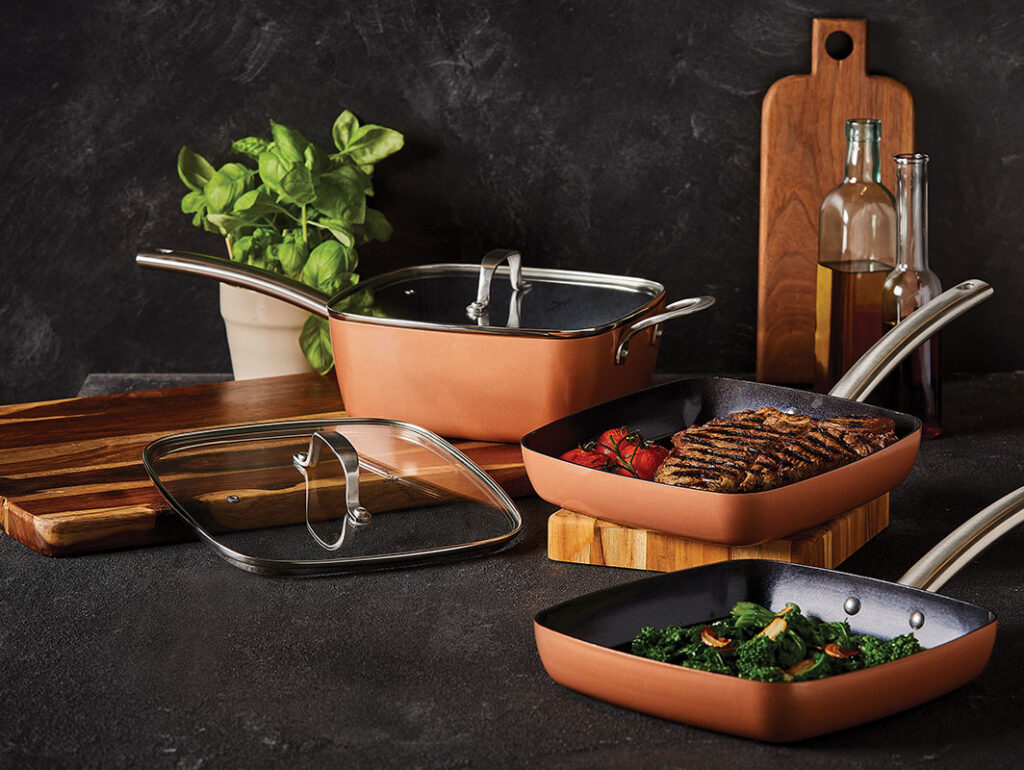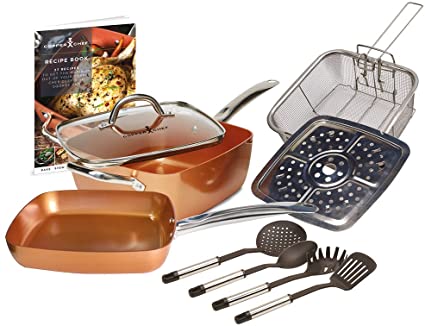 Offer valid while stock lasts (For enquires, please call 08136324553)
All orders within Lagos, Rivers and Abuja are on payment on delivery; However, ₦2,000 commitment fee is required to validate all orders outside these (3) locations, then balance will be paid at the point of delivery
Please note that we incur additional cost for every failed delivery and/or customer unavailability.  Therefore, kindly be sure that you will be available to receive your order before your place it
Kindly complete the form below to proceed with your order