JUMBO Size (DESSINI FRYPAN)
FAMILY-SIZE NON STICK DOUBLE SIDED GRILL PAN
WE WILL DELIVER YOUR ITEM(S) TO YOUR DOORSTEP BEFORE YOU MAKE PAYMENT
CURRENT PRICE – N30,000
This latest new design double sided grill pan is a must have cookware for your kitchen, the double sided pan with the silicon sealing on the edge and magnetic locking mechanism will create a pressure effect while cooking, locking in the heat and pressure to cook the food more quickly and evenly, therefore saving time and energy. The ergonomic handle design and stainless steel handle holder will ensure safe and comfort handling while cooking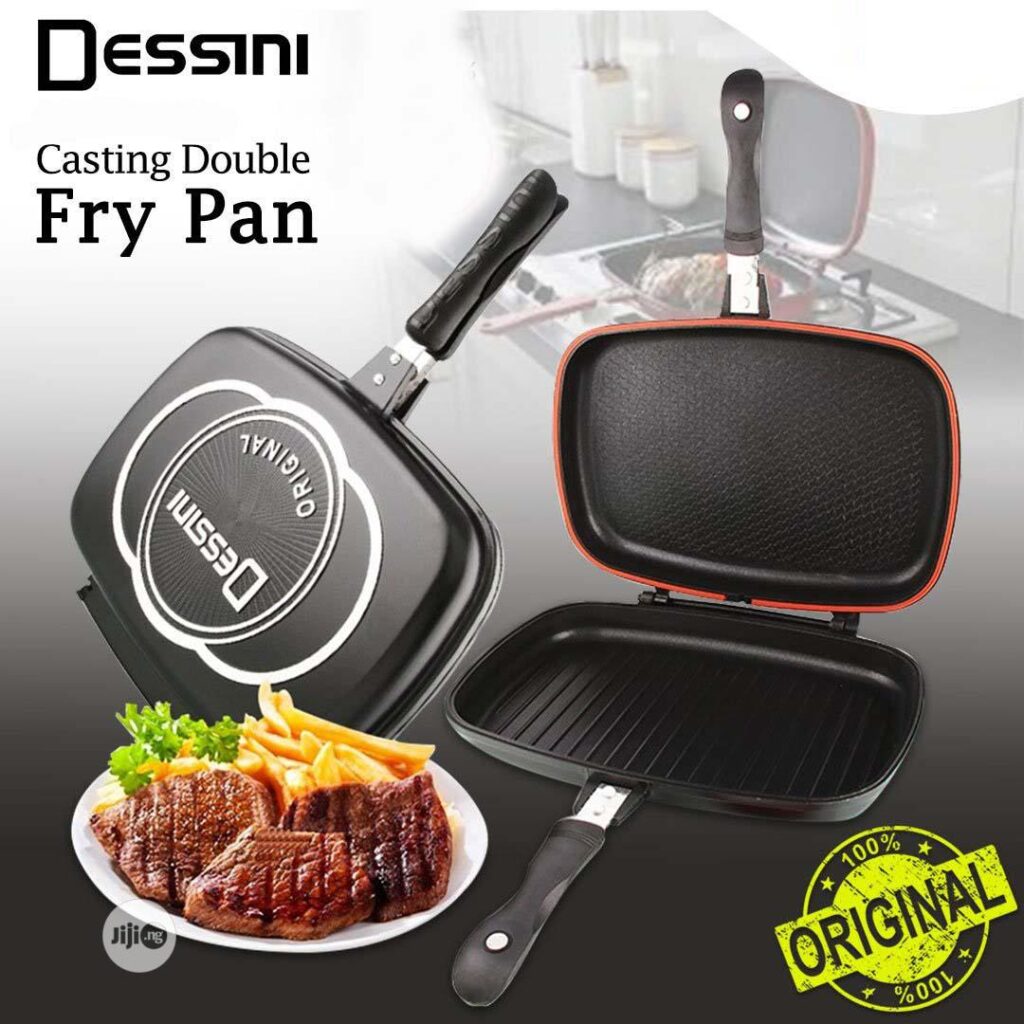 REVERSIBLE ​& DOUBLE-SIDED HEATING — The double sided pan can be heated on both sides, it is easy to turn over the food, the sealed cooking environment can lock the heat and maintain the original flavor of the food, making cooking healthier and more delicious.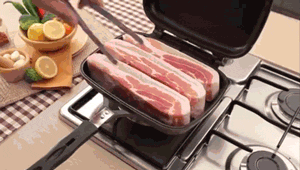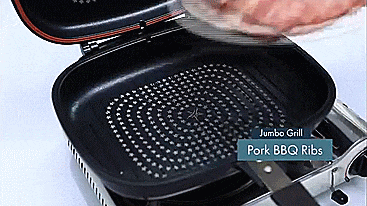 According to the principle of the pressure cooker, Flip and cook on either side, upper or lower pans, which can make flipping food easy while retaining heat and moisture for quick, juicy, and tender food.
The Double Sided Pan provides two types of surfaces – a flat surface and a riffled surface. Both sides distribute the heat evenly so you are able to get perfectly grilled meat every single time! Other than grilling, the Double Sided pan is also ideal for frying and also can be used as a pressure pan so you can experience meats that are falling of the bone without sacrificing hours of your time!
The Double Sided Pan is made of high quality die-cast aluminium with non stick coating, so you do not have to worry about pieces of your meat sticking on the pan. Durable and easy to maintain, the Double Sided Pan can also be use with different cook tops such as halogen, electric, ceramic, or your traditional gas range. Versatile and efficient, this kitchen tool is a true asset for your home.
1)Flip and cook on either side, upper or lower pans.
2)Juicier and more tender food. Perfect for omelettes, baked potatoes, slow-roasted vegetables, steak, fish, fajitas, bacon, frittatas, and more.
3)Raised grill marks inside Heat Source Ready: Electric Hob, Vitro Ceramic, Gas Hob
4)Package Dimensions: 18 x 12 x 3.25 inches (5 lb)
WHY YOU NEED THE DOUBLE SIDED GRILL PAN
Healthy Meals
You can now cook very healthy foods without using cooking oil that is detrimental to your health and wellbeing.
FDA Approved Pan
With FDA approved non-stick coationg for easy cleaning and double layered aluminum hotplate creates heat distribution.Designed without plastic/rubber seal ring.
Multiple Use Function
Designed to fit all standard sized portable butane gas stoves. Grill, stove-top, indication safe.
Good For Cook
This detachable double pan can be used for frying, baking, grilling, broiling, and sauteing meats, vegetables and more! Perfect for making frittatas, omelettes, slow-reasted vegetables, steak, fish , sausages, bacon.
 Offer Valid while stock lasts
Call us for more inquiries on 08136324553.
PLEASE IF YOU DON'T HAVE THE MONEY YET, PLEASE DO NOT FILL THE FORM!
Note: Only fill the form if you are ready to BUY NOW and AVAILABLE TO RECEIVE IT.