Mini Home Automatic Insulation Portable Silicone Kettle Travel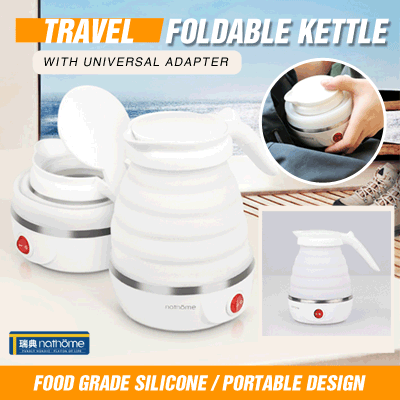 【Safe Food Grade Protective】: BPA free silicone and food-grade stainless steel contribute to consistent heating performance and superior durability of this small travel kettle.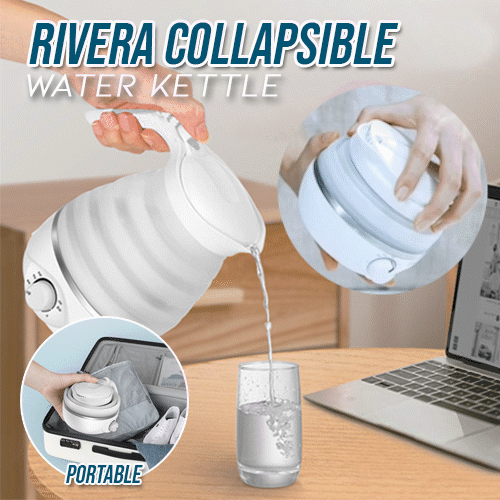 【Ultra-thin Design】: Folded size: 6.5″X6.3″x2.1″; Unfolded size: 6.5″x6.3″x5.1″.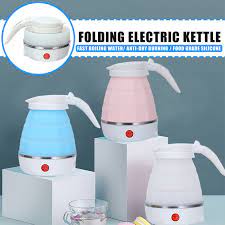 【One Button Design】: Super easy to operate, just press the button, then water will be boiled in 3-5 minutes, Once the temperature below 75 degree, water will be self-heated.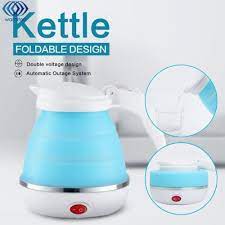 【Dual Voltage Optional】: 110V/220V dual voltage can be use all over the world, you can change it at the bottom of the kettle. Please adjust Voltage to 110V before use in US.
Designed for travel, this Double Voltage kettle is designed for different voltages around the world. –ideal for coffee, tea,and instant soups etc.
★PORTABLE  
0.6Liter,1.42lb, small and little and portable
★DUAL VOLTAGE
Power supply: 100V-120V/220V-240V~ 700W Dual voltage manual switching and it is applicable for all the countries.
★FAST BOILING
Boil 0.6L water until boiling time is about 5 minutes.
★Boiling water process
The kettle will stop heating about 30 seconds after the water is boiled. When the temperature of the water is lower than 75 degrees, the water will be heated again. If you do not want to be heated again, you can turn off the power switch or unplug the power cord.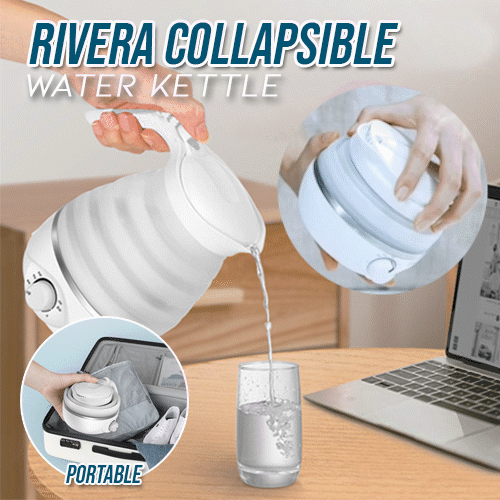 The portable silicon collapsible and foldable electric kettle it can be use both home and office is movable, durable, very affordable and easy to operate.It is a travel foldable electric kettle for your traveling purpose and home use. Foldable electric kettle is suitable for just in any area of the house. available in wholesales and retail
Product Name: Electric kettle
Product model: WJ-0711
Body capacity: 06L
Product color: white
Body material: baby grade silicone
Bottom material: food grade 304 stainless steel
Rated power: 850W
Rated voltage: 220V
Rated frequency: 50HZ
Mode of operation: push-button
Heating method: chassis heating
Electric kettle capacity: less than 1L
Body layer: single layer
Insulation function: Yes
Scale mark: pot body mark
Electric kettle maximum power: 1000W or less
Electric kettle heating speed: 4 minutes (inclusive) – 6 minutes (inclusive)
Power cord length: 0.7 m (m)
Applicable number: 1-2 people
Product size: 17mm*132mm
Weight: 0.55 (KG)
Additional features: automatic power off
Waterproof storage bag, collecting rope and closing, making storage more convenient
Three intelligent modes, high temperature resistance 230 ° C, boil a pot of water in five minutes
Six-speed adjustment, the water temperature can be warm enough
Foldable handle, foldable body
The power cord and the body can be separated, the storage is more convenient, and the water is unobstructed.
304 stainless steel heating plate
SKU: GE779HL0WXX7XNAFAMZ
Color: White or Blue
Main Material: Stainless steel
Model: WJ-0711
Production Country: China
Product Line: NICK518
Size (L x W x H cm): 17×13.2
Weight (kg): 0.55
Offer Valid while stock last
All orders within Lagos, Abuja and Port Harcourt are on payment on delivery-which means you don't pay until you receive the product.
Deliveries to other locations are required to make a part payment of₦2,000 before delivery and balance on delivery.
On confirmation of your order we will send you the account number to make your commitment fee
Call us for more enquiries on 0916 155 3790
PLEASE BE SURE ABOUT BEING AVAILABLE WITHIN 1-5 WORKING DAYS FOR DELIVERY AND BE READY FOR THIS PRODUCT WITH THE MONEY BEFORE CLICKING THE SUBMIT BUTTON BELOW