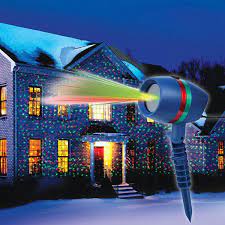 Easiest Way to Decorate Your Home: string lights are a tangled mess and when one light blows, they all go out. Star Shower Laser Motion is the EASIEST way to decorate the outside of your home, projecting thousands of festive laser lights!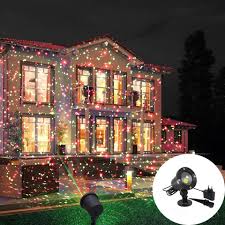 Decorate in ONE Easy Step: it's time to ditch the ladders and hanging lights! With Star Shower Motion you just stick it into the ground up to 100 yards away and plug it in. You can easily angle the projector to shower your exterior walls — even the second or third story — with a spectacular star show! For show-stopping results, use two or more Star Shower Motions!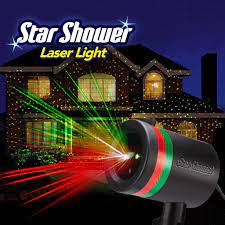 Red and Green Lights: dress up your home with festive red and green lights for the Christmas holiday season! Unlike other projectors that have dull or faded-looking colors, Stars Shower Motion projects vibrant red and green lights on your home, so it will be the star of the block!
For Best Results, Use Two or More Units: one Star Shower Motion works great, but add two or more units to your yard to create top-notch results! You can have multiple units all in motion at once or keep one shining static lights and the other shining moving lights!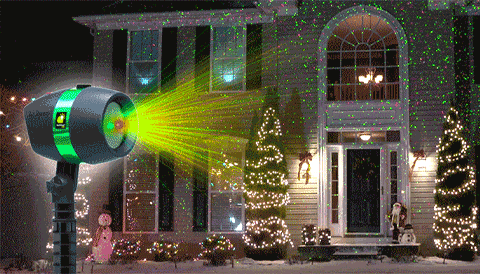 Motion or Static: it's great to have options. With Star Shower Motion, you can choose between motion lights or static lights. Click the button and watch as thousands of lights dance across your home. Or admire a static starfield simply by clicking the button again to instantly turn the motion off.


Weatherproof: rain or snow, there's no need to take your Star Shower Motion indoors. Its weatherproof casing can withstand rainy or snowy conditions and works in temperatures between -30°F and 100°F.
Built-in Light Sensor: you'll never have to worry about running up your electric bill by accidentally forgetting to turn Star Shower Motion off. The built-in light sensor automatically detects darkness and turns Star Shower Motion on when the sun goes down. When the sun goes up, it automatically turns off!
Star shower laser lights for Christmas bring joy and happiness to everyone's face setting the tone for what is to be a great night.
The Star Showers Laser Light with Motion lets you easily illuminate your home year round without risking climbing ladders to hang lights on your house. Place the Star Showers Laser Light on the lawn to illuminate your landscape and home in seconds.
Choosing the best star shower laser lights will help you get ready for any big events at home. These lights are a must for every home.
Current Promo Price: ₦22,000
Order yours now while stock last
All orders within Lagos are on payment on delivery. ₦2,000 commitment fee is required to validate orders outside lagos while balance will be paid on delivery.
Call/Whatsapp us for more enquiries on 08029977905
PLEASE BE SURE ABOUT BEING AVAILABLE WITHIN 2-5 WORKING DAYS FOR DELIVERY AND BE READY FOR THIS PRODUCT WITH THE MONEY BEFORE CLICKING THE SUBMIT BUTTON BELOW