uv light toothbrush sterilizer & toothpaste dispenser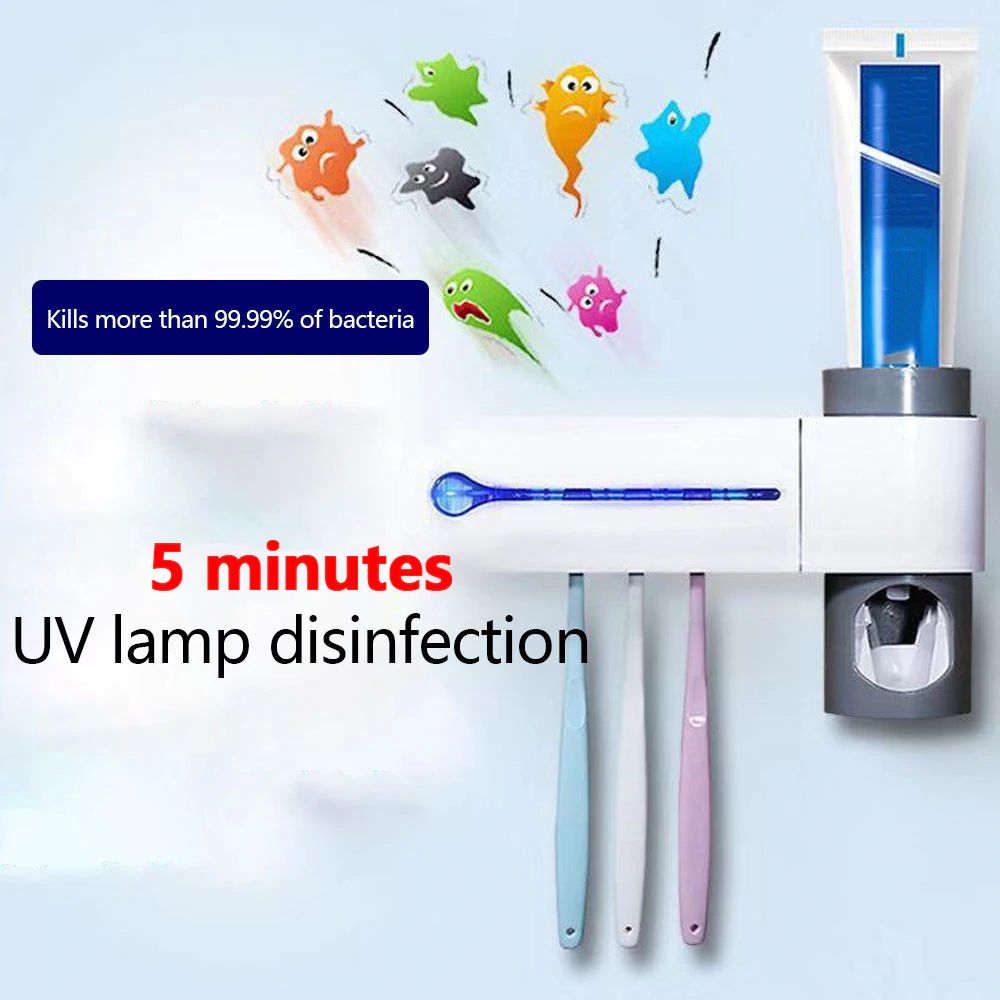 The toothbrush sanitizer is a medical device, multiplication after sterilization.
The product that has 5 toothbrushes(include electric toothbrush heads) is a perfect for family, so it can save more space at home.
The toothbrush sanitizer has a new upgrade. You have 2 ways to place it, for example, using sticky tape or screws(not included).
It is a hygienic toothbrush holder. It can automatic dispenser with vacuum pump squeeze out certain amount of toothpaste when you use.
It is easy to install and not to drill. The back of the toothbrush holder has a strong double-sided scotch tape, which can be used directly to stick to the wall without damaging the wall.
Switch Button of UV Light

There is a button on the top of the toothbrush holder that you can press to activate the sterilization function.
Turn on sterilization function to make your toothbrush cleaner!
Note: UV will only turn on when you press the switch after closing the cover. Open the cover and the lamp will turn off.
360 DEGREE STERILIZATION: UV toothbrush sanitizer is given you and your loved ones a clean toothbrush and peace of mind every day.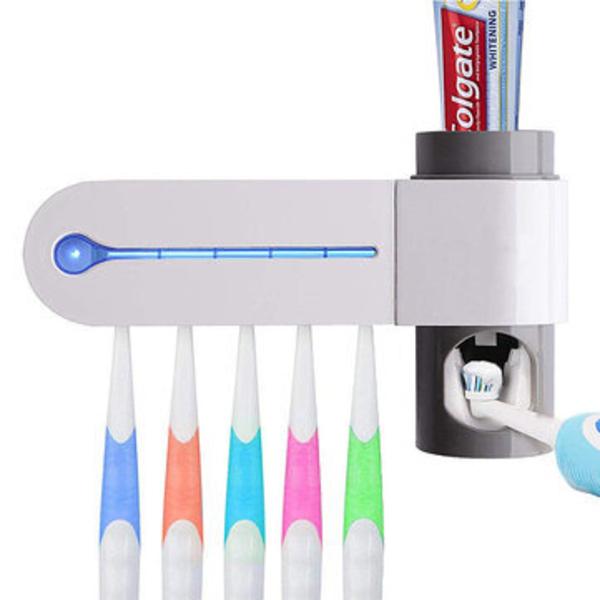 HUMAN INDUCTION: When you are close to the toothbrush sanitizer holder to activate the process, leave the start of sterilization, if you are close again, immediately stop sterilization, protect human safety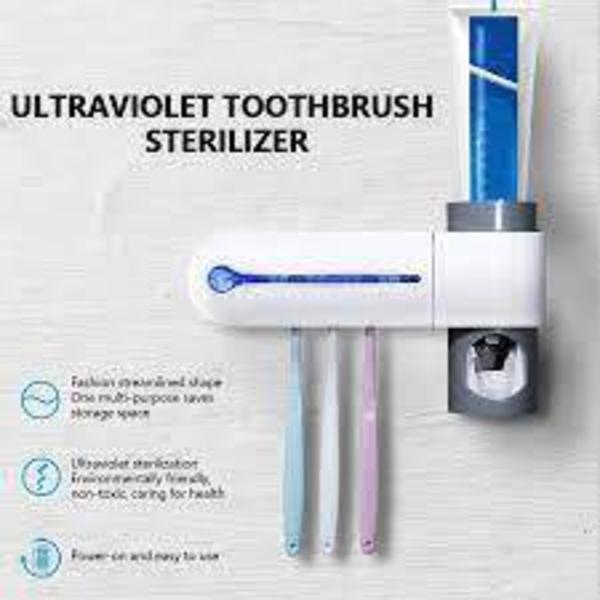 MULTI STORAGE RACK: Toothbrush sanitizer holder can receive 8 wash gargle things to suit a family to use. The front row of toothbrush disinfector can hold 4 toothbrushes, and the second row can hold 1 floss, 1 razor and 1 tongue scraper. The design of toothpaste dispenser is also very humanized, you can place all kinds of toothpaste, because we will give you a multifunction adapter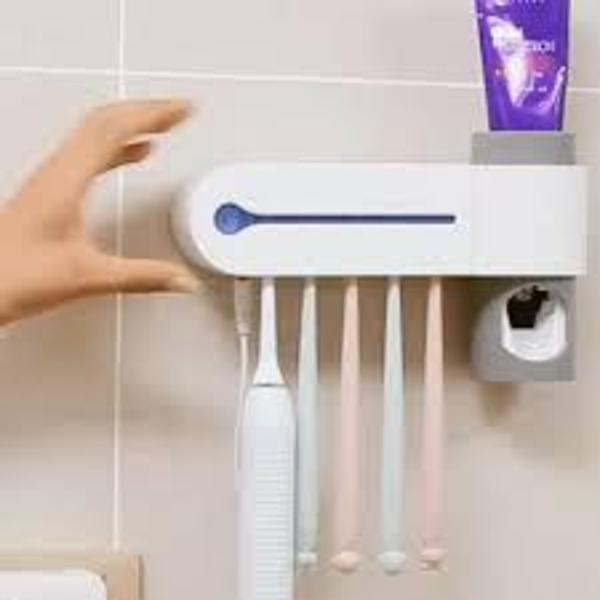 Puretta LED UV Toothbrush Sterilizer holder is CE and 12month quality guarantee as well as lifetime technical support This is a good Mother's Day gift to show love to mother. When you buy PURETTA sanitizer toothbrush holder, please check with the brand supplier. The product is fully enclosed, and the inside of the product comes with another toothpaste screwed in-toothpaste adapter. EPA Establishment Number: 96982 -CHN-1
Toothbrush sanitizer holder have EPA Establishment Number: 96982 -CHN-1. It is a safe smart home bathroom storage set.
Toothbrush Sanitizer Holder Specifications:
Material: PVC
Product size: 7.5 * 5 *1.9 Ines
Working temperature: 0 ~ 50 ℃
Battery capacity: 2600mAh
Toothbrush Sanitizer Holder Package List
1* Toothbrush sanitizer holder
1* User Manual
1* Detachable backplane
1* Expansion screws
1* Toothpaste extension connector
Offer valid while stock lasts (For enquires, please call 08136324553)
All orders within Lagos, Rivers and Abuja are on payment on delivery; However, ₦2,000 commitment fee is required to validate all orders outside these (3) locations, then balance will be paid at the point of delivery
Please note that we incur additional cost for every failed delivery and/or customer unavailability.  Therefore, kindly be sure that you will be available to receive your order before your place it
Kindly complete the form below to proceed with your order